routine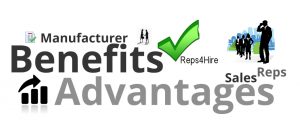 Top sales performers are the most comfortable becoming independent reps. Independent reps are also known as independent manufacturer representatives. Independent reps are often paid on commission only. Aligning with successful top performing sales professionals can be the tipping point of success for any company.
There are numerous Benefits of Hiring Independent Reps for many types of organizations.
Independent reps are often paid a commission compensation as the result of sales.
Hiring independent manufacturer sales reps instead of salary employees will decrease upfront costs.
Alternative to salary with creative commission compensation and hiring processes
Reduction of management personnel
Increased operational focus when not working with direct employees.
Organizations do not need to structure the daily business activities.
Companies do not need to structure the work performed by an independent rep. The independent rep structures their activities independently.
Independent Manufacturer Sales Reps already have established relationships.
Independent Manufacturer reps are already familiar with their territory.
Manufacturer sales reps are closers because they know how to close sales. (They have to close sales to receive compensation when paid by commission only.)
Organizations realize significant tax advantages with hiring independent reps.
A company hiring an independent rep does not need to provide tools such as iPads, laptops, cell phones, office equipment, etc.
Independent reps are not provided compensation for business expenses, therefore they cover their daily expenses such as travel, gas, mileage, lunches, or other ordinary business expenses.
Independent sales reps or manufacturer sales reps often bring products to the market much more quickly.
Quicker market penetration with rep teams, more individual reps, established relationships
Larger sales force opportunity with utilizing Independent reps. Organizations can hire more reps.
Many independent reps work with other reps or already with an established sales force.
Hiring Distributors and established rep teams will increase company exposure.
Manufacturers can enable and enhance their ability to market, sell and distribute their products or services through Independent Reps as a practical alternative to variable team building needs.
Cover white space such as rural areas or other call points not presently covered.
Manufacturer sales reps are not going to take a product line on unless they can close sales.
Great for organizations where Sales cannot currently support a salary for dedicated sales reps
Advantageous to Small and Emerging Companies
Target Regional areas based on interest of regional independent reps rather than hiring a full time employee
Utilize independent manufacture reps for Market Research, compensating as needed without a full sales force and salary commitment
Manage vacant areas
New Product Introductions
In conclusion, Building a Sales Force with Independent Manufacturer Representatives offers an incredible opportunity for emerging to established companies. Selling with Manufacturer reps is a cost effective means to take products into the market.