Building a sales team of Manufacturer Sales Representatives is not done overnight.
Building a sales team isn't done quickly. Sales team building is an ongoing and continuous effort for all successful companies. At Reps4Hire, we believe you should have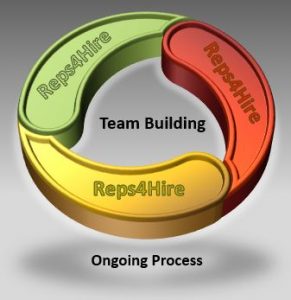 access to aligning manufacturer sales reps in an ongoing fashion and as a result we offer EXTREMELY competitive job posting opportunities for a FULL year! Our shortest advertising term is for 90 days and this will give you a nice time frame for a trial listing!
Locating Commission Only Manufacturer Sales Representatives, 1099 Sales Reps, Freelance Sales Agents and Direct hire manufacturer reps
Commission only reps (or in the USA known as 1099 reps) tend to work with products based on market needs. Often an independent manufacturer sales rep will promote what is hot today for them or it may take them time to ramp up sales for a new manufacturer they align with. Let's face it, manufacturer sales reps already have accounts established and they need to focus their attention on the manufacturers' products that is presently producing them sales and generating income. Independent Manufacturer Sales Representatives will have many qualifying questions for the manufacturer when Selecting Products to promote.
Manufacturer Sales Representatives Sales Territories
Manufacturer sales reps initially assigned to a certain sales territory often start out with strong sales. As sales decline in a territory, you will need new reps. You will need to be able to collect data on additional manufacturer sales reps for future growth needs. You may need to augment with additional reps to certain territories, especially as your sales begin to roll in. Your products may have a multitude of call points. Therefore, you will  need to have additional manufacturer sales reps to cover all of your customers. Team building is not on a "trial basis" because it takes true dedication and commitment to build your sales team of manufacturer sales reps.
Hiring and Screening Process of Manufacturer Sales Representatives
You will need to explore various strategies for your hiring process and tweak along the way. You need continuous access to find and align additional manufacturer sales reps, without limits, which is available on Reps4Hire. If you need to post multiple listings, let us know and we'll certainly work out a special package for you. In conclusion, we want you to succeed – when you succeed that means the manufacturer sales rep members also succeed. Join us to find manufacturer sales reps and begin building or expand your sales team.